I know I said I'd post pictures earlier this week. But, I didn't. Sorry.

So, without further ado, here are a few: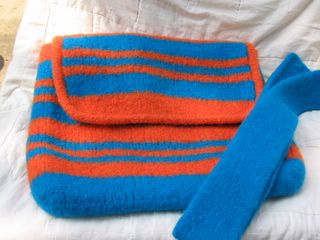 Here's the small satchel from Knitty.com that I did for DD#1. I love the way it turned out. Now I just need to sew the handle on. This was knit with Cascade 220.


I also got this rocking sock yarn to do a pair for her. The yarn came from Knit Pixie - be sure to check them out if you haven't visited there before.


And this is the lapghan I'm making to donate to From the Heart. This is such a great pattern and so easy to knit. I love seeing how the different yarns knit up next to each other. And since it's self-fringing, when I'm done, it's done! Gotta love that!!!!


Presenting the blanket I was test knitting for La (of JenLa fame). She had submitted it to Knitty, but they chose not to accept it. This was a fun knit and I've totally enjoyed it. I've only got a few more rows to go. Then it will be sent to live with one of my childhood friends who recently had her first baby.


You may recognize this ... my to-go project - the shawl from Morehouse Farms. I love knitting this. It's so easy!!!! I can't wait to get to the part where I get to cut it - very exciting!!!!

I haven't done anymore on Soliel so no photo - I don't know what I'm waiting for. I need to get it finished while the weather is still conducive to wearing a sleeveless top. I'm aiming to finish it this weekend.

And finally, I leave you with a word from Al:
Hi! Me bin mutch bizzy but wanted to sho u anutter nitblogur frend. Can u naim dis blogur? Buhbye!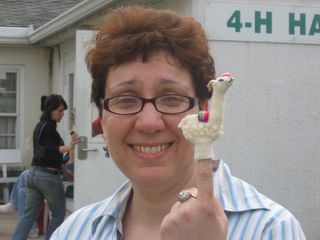 If you know who this knitblogger is, just leave a comment!