Thanks to everybody for all your happy vibes and well wishes as I try to find new employment. I'm trying not to dwell and have a big ol' pity party for one, but MAN.THIS.SUCKS!

So - how was your weekend? Mine wasn't bad. Friday was kind of hectic ...

DD#1 had her 8th grade semi-formal dance. We went shopping earlier in the week and found the prettiest dress. She was SO excited. She looked beautiful and said she had a great time. They even did the Chicken Dance!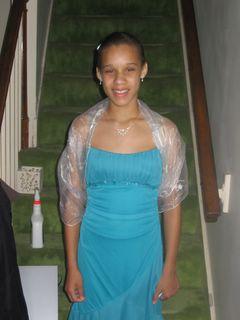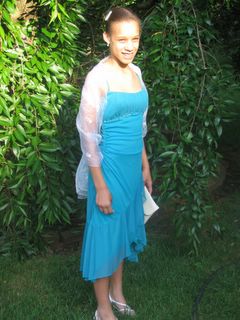 I then had to get changed and head to the Coliseum to see Larry the Cable Guy. Git-R-Done! I went with the parentals and my SIL (a.k.a. Bestest Friend in the World!). We had such a good time. I thought my mom was going to have an asthma attack she was laughing so hard! After that total laugh fest, SIL and I headed out to da club for some dancing. We were even on the radio, and in true "What happens in Vegas" style, we were incognito ... "I'm Marcia" ... "My name is Kali". Laugh if you will, because we still are, but we scored a pair of tickets to see The Wallflowers at Innsbrook this Friday night - Yeah Us! Considering the upcoming doom and gloom unemployment and lack of foreseeable income, FREE tickets rock!!!!

Saturday and Sunday I didn't really do much - just kind of "vegged". I didn't even do much knitting, but I worked on Soleil a little last night while I watched the Bridezilla marathon on WE (this is what happens when the new batch from Netflix hasn't arrived). Just let me say OMG and WTF?!?!?! Some of these brides need to step away from the wedding planning and get a life.

Well, nothing is on TV again tonight ... PLEASE let my new Netflix picks arrive in tomorrow's mail ... I can't take much more of this crap TV. So far, in the 2 weeks I've had Netflix, I've watched 7 movies - not bad. I've listed them in the sidebar - it'll be interesting to see just how many I watch this summer. Or, maybe that will just be a sad, pathetic illustration of how boring things really are here at mi casa. Hmmm.

Hey Norma - have you seen Ocean's 12? Eddie has a part in it. G*d I love him!