Here's a shot of my tree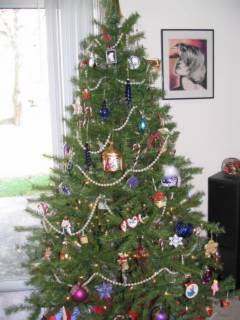 And this is my tree topper ...




... it's the Holy Family. I collect nativities and won this beauty on eBay. I have a few nativity ornaments on the tree (I'll post pix of those later) and some around the house too. I have one nativity hand-made of clay from Puerto Rico, I have one made of wood, and I have a few ceramic ones. Some of them even stay out all year long. I love nativities and the 3 Kings / Wise Men. My youngest DD is half Puerto Rican so we'll be celebrating Three Kings Day on January 6th.

I just realized I haven't posted pictures in like a MONTH so I'll do better about that going forward. Sorry. It's been a two-fold problem ... 1) everything I've been knitting has been SuperSecretChrissiePressies; 2) I don't own a digi cam. But since the holidays are near and the gifts will be given I can post the photos soon. Also, I've asked for a digi cam for Christmas *fingers crossed that Santa agrees I was good*.

I've been working on SuperSecretChrissiePressies. Those that needed to be shipped have been so now I'm trying to finish everything for next week. I also have a little more shopping to do. Hopefully I can get that finished tomorrow after church, before the pageant. So, now I'm off to do laundry (the never ending chore) and wrap some presents and, of course, knit!