For your viewing pleasure ... a few photos!

These are my 1st two pairs of socks EVER!!!!! These are baby socks I did for my cousin (she's due in August). These patterns came from Knit A Dozen Baby Socks. I'm really pleased with the way they turned out.



This is a shot of Soliel - did I tell you I'm loving this pattern? Well, I am! I've finished the back and I'm working on the fronts. I decided to do both fronts at the same time so they'd be the same length.


Here's a close up of the lace at the bottom. I'm hoping blocking will stop the edge rolling up.



And I cast on for this yesterday. Cast on TWICE in fact - ugh! But I think I got it right this time. This is Melody's Shawl, another kit I bought at MS&W from Morehouse. Did I mention that I love their yarns and patterns?! This picture turned out a little dark - hopefully the next project shot will be lighter.



And finally, here's one of a couple of the goodies my SP5 sent me.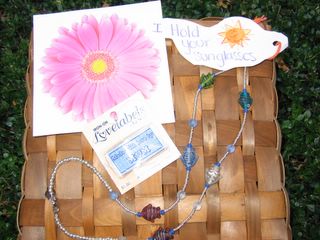 I had to get the cute sunglass holder back from the kids to take a picture! The labels say "Made with love by MOM". My SP has also sent other goodies but we used them upon arrival ... she sent an Ice Pop Party in a box: water balloons kit, splash balls (wet them and then throw them at each other), an ice pop maker WITH some super yummy ice pop recipes she found, and some cutie necklaces for my girls. This arrived the day before we went to Vermont so we took it with us and had such a good time! My SP rocks!!!!!!!